Liftmaster - Genie Openers
Back To Our Services
Trusted Genie and LiftMaster Garage Door Opener
We at "Garage Door Repair Crowley" aim to provide only the best to our customers. Your safety, satisfaction, and convenience are our top priorities, which is why we teamed up with the leading brands in garage door openers. LiftMaster and Genie are household commercial names with noteworthy reputations. These two leading opener brands provide quality products that use advanced technology on their openers and accessories. They are constantly working on new innovations that improve the standards of their products.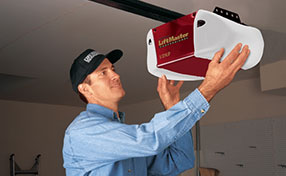 Genie Garage Door Opener
Genie has been producing garage door openers since 1923. It was originally founded as the Alliance Manufacturing Company. Its years of experience in the industry have made it one of the trusted and most used openers both in households and businesses. Throughout the years, they have continually created innovative products that deliver not just convenience and efficiency, but safety and security as well.
Genie commercial openers were created with the standards of industrial and commercial doors in mind. Businesses could trust these openers would ensure the safety and provide smooth operation, which is essential to prevent any delays in business activities. These openers are UL 325-2010 compliant. Their residential door openers are equally excellent with their power, speed, and intelligence. Its latest models come with Auto Seek Dual Frequency preventing frequency interference. Rolling codes are also used to avoid hacking. The drive rail can also be changed between chain and belt. With all the great features that this brand has to offer, their products are priced reasonably.
LiftMaster Garage Door Opener
For over 40 years of providing top notch garage door openers, LiftMaster was able to prove that it's a trustworthy and reliable brand. The latest innovation and technology in openers offers consumers remarkable advantages. Aside from the convenience, security, and popularity of their openers, they are also sturdy and powerful. They can be used on heavy garage doors and expect them to last for an extended period, even when exposed to various elements.
The latest LiftMaster openers come with a security feature that automatically reverses the opening of the door when something is detected on its path. This prevents damages and injuries. When the garage door is opened, a different code is generated in order to prevent hackers from accessing the system and gaining unauthorized access. Its commercial door openers are also UL325-2010 compliant, which ensures that they are of industry standards.
We also carry other products from LiftMaster. While these can be used individually on their own, you may also use them together to enhance the security system in general. For instance, its Garage Door Monitor permits you to see if your garage door is open even while inside the house. You may use it with the LiftMaster Internet Gateway to close the door without leaving premises. It's also possible to control and manage your security system while away from home with the use of a smartphone or a computer.
Genie and LiftMaster are trusted brands in the garage door opener industry. We're proud to be their partner and we're always here if you need to learn more about these brands. Please call us today for experienced service in installing, fixing, maintaining and replacing all these products.